Tomorrow is Earth Day, Let's Celebrate With a Meteor Shower! By Danica Remy

April 21, 2021
Tomorrow is Earth Day and with cautious optimism about the year ahead, let's take a moment to celebrate the importance of this day. And in a celestially celebratory moment, this year, the Lyrid Meteor Shower will peak in the early morning hours of Earth Day! 
Earth Day has always been about the bigger picture. In the last year we were forced to acknowledge our interconnectedness and our need to move out of our individual bubbles and think and act in community. While we are not in the clear from the COVID pandemic, at B612 and the Asteroid Institute, we are moving towards a safer collective existence in the future.
History shows us asteroid impacts happen, with varying degrees of consequence. Through our Asteroid Education program, we are also promoting global conversations around the world about impact scenarios so we will be prepared, collectively as a planet and as one life form, to respond when we are faced with a potential impacting asteroid. 
We wish you good health and thank you for being part of our forward-thinking "crew". We hope you enjoy Earth Day and celebrate in a way that makes you feel connected and part of something bigger. 
---
About Danica Remy: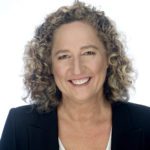 Danica serves as President of the B612 Foundation, which leads the private sector efforts in research, analysis and systems design to protect Earth from asteroids.  Danica also co-founded the international program, Asteroid Day which is supported by the Government of Luxembourg and international space agencies and satellite companies. In 2016 it was sanctioned by the United Nations as an official day to increase global awareness and education of asteroids. The other co-founders are legendary Queen guitarist Dr Brian May, Apollo 9 astronaut Rusty Schweickart, and German filmmaker Grigorij Richters.