2023 Asteroid Institute Education Events

November 15, 2023
B612's Asteroid Education program increases awareness about asteroids and science through public speaking and exposure in the media. In addition to Asteroid Day, in 2023 we shared stories about our work and why the world should learn more about asteroids.
PRESENTATIONS + PRESS
March | Dr. Ed Lu at the Rainbow Mansion
Dr. Ed Lu gave a talk at the Rainbow Mansion, a storied intentional community of young space entrepreneurs. After the presentation, a Q&A took place with discussions on future scientific explorations and resource utilization.
March | Rusty Schweickart at TEDxSonoma
"We have the technology today to find asteroids and predict their impact," said Rusty Schweickart in his TEDxSonoma talk where he highlighted B612's work in asteroid detection and the importance of protecting humankind from these cosmic collisions.
June | Dr. Ed Lu at California Academy of Sciences
Dr. Ed Lu presented the case for a four-dimensional map of the solar system at the California Academy of Sciences Dean Lectures. "Location-based services of the solar system are going to be the key to the economic development of space," he said.
June | Launch of the Schweickart Prize at California Academy of Sciences
On June 30th, B612 celebrated International Asteroid Day by launching the Schweickart Prize, named after our co-founder, Apollo 9 astronaut Rusty Schweickart. This prize recognizes exceptional contributions to the field of planetary defense and the advancement of humanity's cosmic journey, and underscores the importance of collective responsibility in safeguarding our transition into the wider cosmos.
July | Kathleen Kiker on The Path Podcast
Asteroid Institute engineer Kathleen Kiker joined Casey Moninghoff on The Path Podcast for an interview exploring the importance of asteroid research and tools that have been developed to understand, map, and navigate our solar system.
August | Asteroid Institute on Aviation Week Network
"With ADAM::Precovery we had the answer in minutes. It felt like Googling the imaged sky!" said Dr. Zeljko Iveziv Director of the Rubin Observatory in an article in Aviation Week Network featuring Asteroid Institute's Precovery service and its future applications in asteroid research.
August | Dr. Ed Lu interviewed on MBN-USAGM's AlHurra Tonight
Dr. Ed Lu was interviewed on Middle East Broadcasting exploring the application of AI in asteroid research and detection, and how it can be used to avoid future impacts.
ASTEROID DAY GLOBAL
For the eighth year in a row, B612 was a proud sponsor of Asteroid Day, celebrated annually on June 30th and recognized by the United Nations internationally. Asteroid Day 2023 saw more than 450 events registered and still counting. Independent event organizers hosted a plethora of engaging activities, from augmented-reality simulations to quizzes and workshops.
On June 30th, asteroid experts, scientists, and astronauts (including our strategic advisor and Romanian cosmonaut Dumitru-Dorin Prunariu) converged in Luxembourg to share advances in the field. With a family-oriented program, folks could hear from visiting speakers on the main stage or participate in learning activities, from painting on a giant papier-mache asteroid to programming space rovers and launching Lego rockets.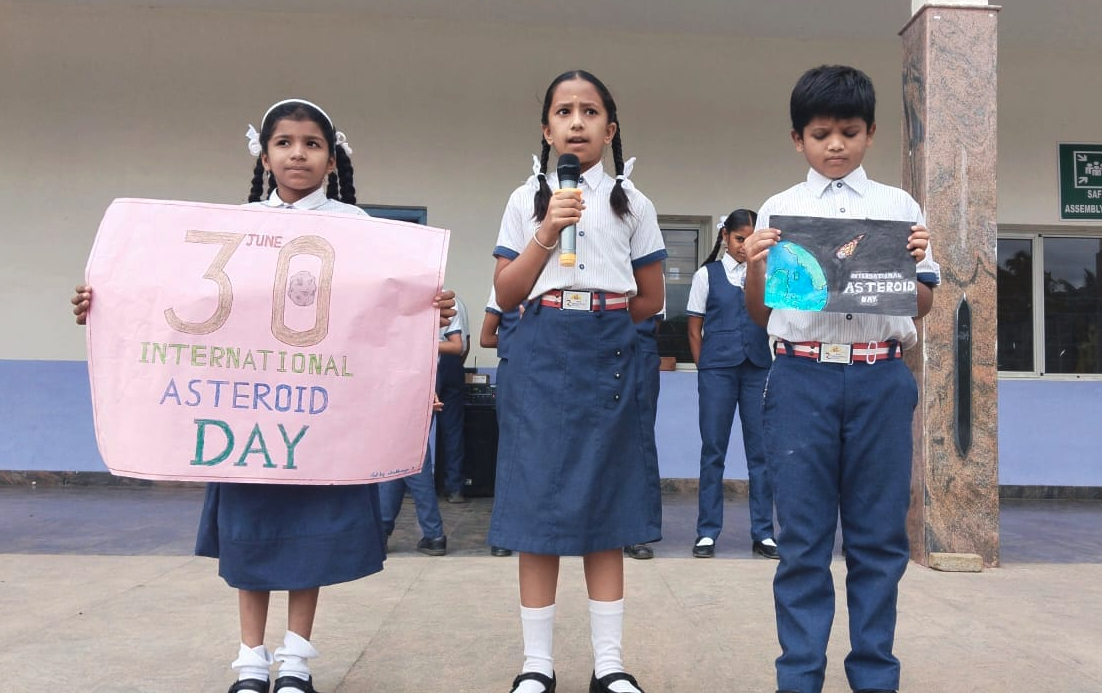 While experts gathered in Luxembourg, the worldwide team of organizers produced their own independent events:
In Bologna, Italy, the INAF Sorvegliati Spaziali hosted an exhibition of rare meteorites and relics from the Tunguska and Chelyabinsk events. The event also included Augmented Reality (AR) asteroid-impact simulations.
In Rochechouart, France, the Center for International Research and Restitution on Impact and on Rochechouart (CIRIR) hosted multiple events, attracting young artists to participate in a drawing competition, while astronomers and researchers from the region showcased posters in an exhibition.
At the California Academy of Sciences in San Francisco, volunteers and Asteroid Institute team members educated the public on our work, and provided children photo-booth opportunities with cutouts of astronauts Ed Lu and Rusty Schweickart.
The park in Gancedo, Argentina, known for housing the massive El Chaco meteorite, buzzed with activities centered around asteroids. With widespread media coverage, excursions and caravans from various cities brought the public together for a full day of scientific and cultural experiences.
The Al-Najm Al-Thaqib Astronomical Association in Algeria invited the public to interact with astronomers and learn about the positioning of asteroids through informative posters showcasing the solar system.
Astronomy clubs and organizations around the world took the opportunity to educate people about asteroids in their own cultures, in their own personalized way. These organizations help shift the global movement to a local and meaningful conversation.