B612 Sponsors 2nd Annual LSST Solar System Readiness Sprint in Chicago

August 12, 2019
For the second year in a row, B612 sponsored the LSST Solar System Readiness Sprint, a convening of scientists ensuring the readiness of the scientific community to interpret LSST's solar system data when it begins operation.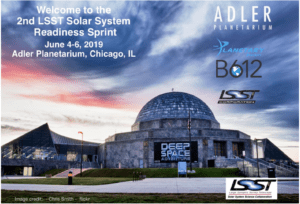 One of the largest telescopes on Earth, the Large Synoptic Survey Telescope (LSST), will come online in 2022. It is expected to catalog millions of asteroids, including over 100,000 Near-Earth Objects. In order to be ready for this data, the scientific community is collaborating, collecting resources, and building analytical tools, including the Asteroid Institute's ADAM Project.
Some of these newly-discovered asteroids could be on potentially Earth-impacting trajectories. ADAM is allowing us to calculate the probability of impact and deflection requirements for a large set of theoretical Earth-impacting asteroids that represent those LSST is expected to find. This will help us to better understand the asteroid impact threat and prepare for the large amount of data LSST will produce.
Fifteen scientists attended this year's sprint at the Adler Planetarium in Chicago. It was also sponsored by the Planetary Society, Adler Planetarium, and the LSST Corporation.
You can read the results of the sprint here.