B612's Asteroid Education Partnership with Meteor Crater

June 4, 2019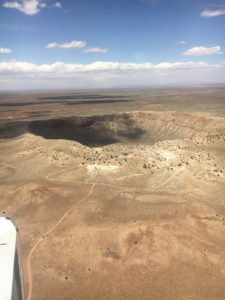 B612 would like to recognize Meteor Crater Enterprises and The Barringer Crater Company, for our five-year partnership in leading "learning journeys" to the best-preserved impact crater site in the world, Meteor Crater.
Visiting the crater is an amazing opportunity to see the effects of an asteroid. Located in northern Arizona near Winslow, the crater is the breathtaking result of a collision between an asteroid (traveling at 26,000 miles per hour) and planet Earth approximately 50,000 years ago. Meteor Crater is nearly one mile across, 2.4 miles in circumference and more than 550 feet deep.
The meteor responsible for the crater was 30-50 meters across or about half the length of a football field. The science and research happening at our Asteroid Institute will help find track and ultimately deflect asteroids such as the one that created this crater.
As the only nonprofit organization in the world dedicated to asteroid science and protecting the Earth from asteroid impacts, our partnership with Meteor Crater Enterprise is an incredibly important and valuable one.