Danica Remy Interviewed by NBCNews.com

August 16, 2019

Danica Remy, B612 President, was interviewed by NBCNews.com about the recent asteroid flybys.
Danica highlighted that the risk to Earth from asteroids is small in the short-term, but it is inevitable in the long-term and for the first time in human history we have the technology to solve this problem.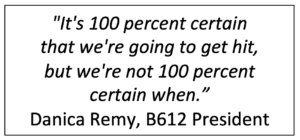 The article also features interviews with NASA representatives and discusses the DART mission. B612 and the Asteroid Institute are excited about the progress on the DART mission. 
Seventeen years ago, when B612 was formed, one of its original goals was to advocate for and see that an asteroid demonstration deflection mission was implemented within 15 years. We are pleased that now, seventeen years later, a deflection mission is both funded by NASA's Planetary Defense Coordination Office budget, has a launch date, and is working with international partners. This is shared global progress in the area of planetary defense.
Read the article here.