Dynamical Study of an Asteroid Orbit by Dr. Sarah Greenstreet

May 10, 2020
Asteroid Institute Senior Researcher studies the stability of an asteroid with an orbit closer to Sun than that of Venus.
On 4 January 2020, the Zwicky Transient Facility discovered the first asteroid with an orbit closer to the Sun than that of Venus. These asteroids are called "Vatiras" and were first theorized by Sarah Greenstreet, an Asteroid Institute senior researcher, and colleagues back in 2012. A paper by Greenstreet published in March in Monthly Notices of the Royal Astronomical Society and recently featured in a story in Physics Today discussed the stability of this newly-discovered Vatira, called 2020 AV2, on its current orbit. 2020 AV2 will likely not stay so close to the Sun for long before gravitational interactions with the planets will move it back out beyond Earth's orbit where it likely originated.
Greenstreet reported that 2020 AV2 sits very close to a stable region where more Vatiras like it could be discovered. This study provides an ideal example of a project that could be performed with ADAM upon its completed development. The ability to propagate large numbers of asteroids in a short period of time is required for time-sensitive orbital dynamics projects, which is a service ADAM will provide to the scientific community in the near future.
ABOUT DR. SARAH GREENSTREET: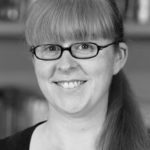 Sarah is a B612 Asteroid Institute senior researcher. Her research interests revolve around orbital dynamics problems in the Solar System. This includes studying main-belt asteroid resonances, resonant mechanisms that create asteroids on retrograde orbits, co-orbital Solar System objects, impact, and crater formation rates, near-Earth object population modeling, and Earth impact probabilities and hazard mitigation. She has also used observations for near-Earth object follow-up and characterization and confirming that predicted asteroids undergo the Yarkovsky effect. She received her Ph.D. in 2015 from the University of British Columbia.