Kerbal Space Program's Asteroid Day Challenge was a hit! (no pun intended!)

August 18, 2021
In the weeks leading up to Asteroid Day, Kerbal Space Program hosted a planetary defense challenge with judges Dr. Ed Lu and private astronaut Richard Garriott.
Thank you to the brilliant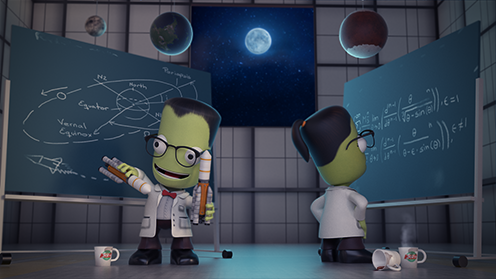 scientists and engineers around Kerbin who submitted their planetary defense plan for the 2021 Asteroid Day Kerbal Challenge! Kerbal Space Program is a space flight simulation video game developed by Squad and published by Private Division for Microsoft. In the game, players direct a nascent space program, staffed and crewed by green humanoid aliens known as "Kerbals" who live on the planet Kerbin. 
With feedback from Asteroid Institute Executive Director, Dr. Ed Lu such as, "Creative idea to control laser thrusting," we know it was a quality competition! You can read more about the competition and the winners here. 
Our team encourages youth and parents to consider Kerbal as a great way to teach and inspire STEM. While Kerbal helps to have a rudimentary understanding of physics, the more you play, the more you'll learn! Kerbal Space Program uses a very complex, very realistic physics model to calculate how well your rocket will launch and fly, both sub-orbitally and in space (if you get there!). Our entire team is a fan of this program!