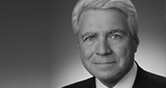 Chair, WPP plc; Senior Advisor to Morgan Stanley; Former US Ambassador to the Court of St. James
Since 2001, Phil Lader has served as Chairman of WPP plc, the world's largest advertising/marketing company. He is also a Senior Adviser to Morgan Stanley and a Director of Marathon Oil, AES and Rusal Corporations. From 1997 to 2001, he served as the US Ambassador to the Court of St. James. Phil Lader has held numerous senior level positions in the US Government, including White House Deputy Chief of Staff, Deputy Director of the Office of Mgmt. & Budget, and Administrator of the US Small Business Administration.
Phil Lader is a trustee of the Smithsonian Museum of American History and the Atlantic Council and a member of the Council on Foreign Relations. He graduated Phi Beta Kappa from Duke University, received an M.A. in History from the University of Michigan, completed graduate law studies at Pembroke College, Oxford University, and received the J.D. from Harvard Law School. He was the West Professor of International Studies at The Citadel, the Military College of South Carolina, and was chairman of the Board of Visitors of Duke University's Sanford Institute of Public Policy. Lader has been awarded honorary doctorates by 14 universities. The Royal Society for the Arts, Manufactures and Commerce awarded him the 2001 Benjamin Franklin Medal for his contributions to trans-Atlantic relations, and he received the Rotary International Foundation's 2007 Global Service to Humanity Award.