Asteroid Institute | DART deflection event with scientists and friends

October 25, 2022
For 20 years B612 advocated for a deflection technology demonstration mission. Scientists and experts gather, discuss and watch the historic DART impact.
On September 26, humanity took an important step forward in our ability to protect planet Earth from asteroid impacts. NASA's DART (Double Asteroid Redirection Test) spacecraft changed the trajectory of an asteroid, a capability we will one day need when (not if) an asteroid is found to be on a collision course with Earth. B612 has been pushing for such a technology demonstration mission test since our founding in 2002. On September 26th, we were surrounded by a group of scientists and friends as we witnessed and celebrated this historic event.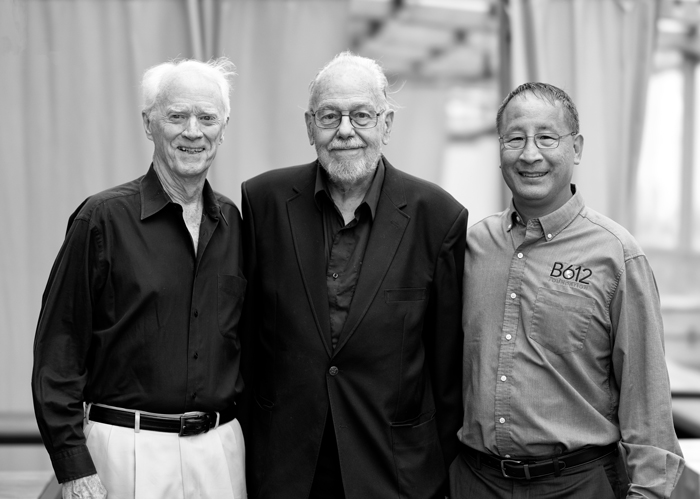 Planetary defense leaders Rusty Schweickart, David Morrison, and Dr. Ed Lu have been working on the question of planetary defense since the late 1990s. Photo credit Christopher Michel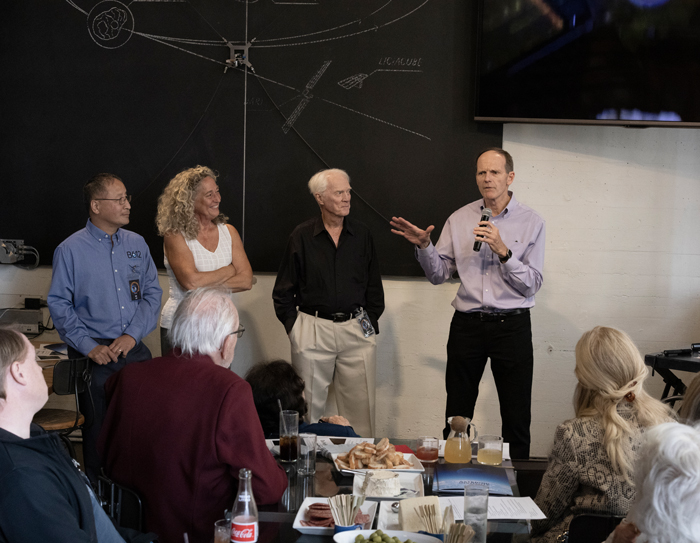 Spectators and scientists alike ask questions of B612 co-founder Dr. Ed Lu, President Danica Remy, co-founder Rusty Schweickart and astronaut Steve Smith at DART impact event. Photo credit Christopher Michel.
Members of the Asteroid Institute crew gathered with asteroid experts, supporters, astronomy aficionados, as well as a few star-gazing novices, to watch the impact on the big screen at The Interval. When the NASA team lost all contact with the DART spacecraft as it's power terminated due to the collision, the impact mission was considered a success. Hours later, as the first images from South Africa started populating the web, our team was discussing future possibilities and probabilities.
Photographer Christopher Michel was on hand, documenting and we were delighted that many of our Founding Circle and Asteroid Circle members could join us. Astrophysicist Dr. David Morrison and Dr. Mario Juric were on hand, as were astronaut Steve Smith and B612 co-founders and fellow astronauts Dr. Ed Lu and Rusty Schweickart. Michel's photos told the story of our event, as we witnessed it with discussions surrounding the culmination and effects of the DART Mission. Several of Michel's photos from this event will be added to the National Academies: New Heroes portrait series Michel has been commissioned to document.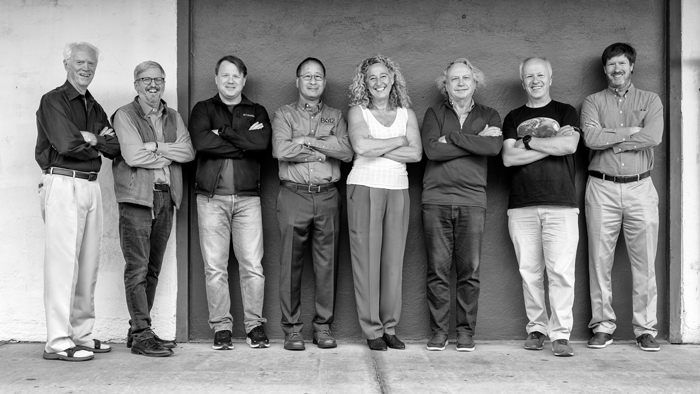 Asteroid and Founding Circle Members of B612 and the Asteroid Institute: Rusty Schweickart, Steve Krausz, Eliot Gillum, Dr. Ed Lu, Danica Remy, Rodney Brooks, Vladas Lasas, Arthur A. Gleckler. Photo credit Christopher Michel.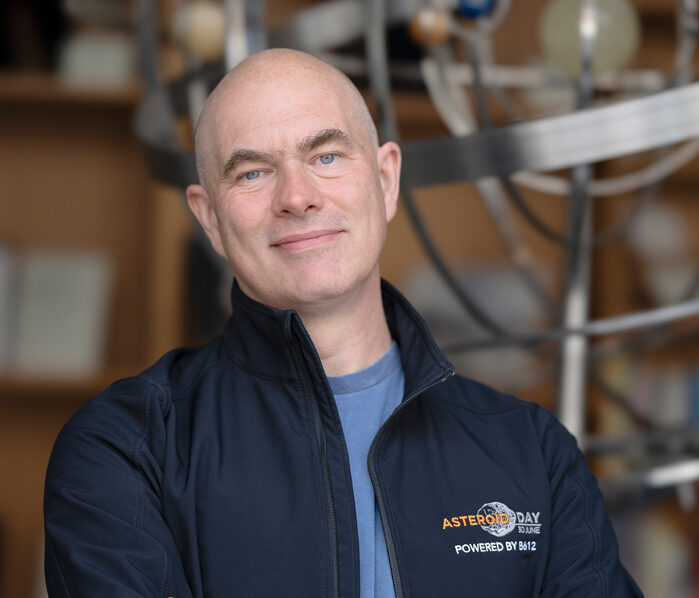 Scott Manley, proudly wearing his Asteroid Day jacket, attended the DART event and has been an advisor to B612 for many years. Photo credit Christopher Michel.
YouTuber Scott Manley and Asteroid Institute Advisor was also on hand for the event in San Francisco, educating his 1.5mm followers the next day of the impact, in his YouTube video about the DART Impact. Scott is a prolific space educator and we are always amazed at the speed he can produce quality content.
For many years now we have been saying that the name of the game when it comes to asteroid defense is finding and tracking asteroids. And that if we find one with our name on it with enough notice, we will be able to nudge the asteroid to ensure a miss with Earth. The DART mission provides us with a real-world test of such technology. Our efforts at asteroid discovery and tracking now take on even more importance.
Here are a couple of good articles to read about the DART mission, and the new science coming from the aftermath of the impact:
Chang, Kenneth. "What We Learned from NASA's Dart Mission." The New York Times, The New York Times, 28 Sept. 2022.
Crane, Leah. "NASA's Dart Mission Moved an Asteroid's Orbit by Smashing into It." New Scientist, New Scientist, 11 Oct. 2022.